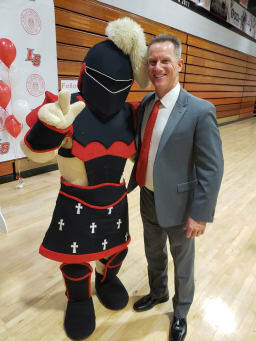 Welcome to La Salle High School, where we strive to develop each student's full potential in mind, body and spirit. Our Catholic institution is guided by Jesus Christ and rooted in the teachings of St. John Baptist de La Salle.
We consistently balance our rich history and tradition with meaningful growth and progress. Sensational students, passionate staff members and outstanding parents and alumni work together to continue our legacy of being a first-class high school.
Students grow in their faith as they are continually exposed to experiences that equip them to lead ethically in an ever-changing world. At La Salle High School, our young men collaborate with many in a high-quality academic program, while answering the call to serve others.
Come see what we are all about. You are always welcome to visit and be part of our Lancer tradition!
Live Jesus in our hearts…forever.
Aaron Marshall
La Salle High School Principal