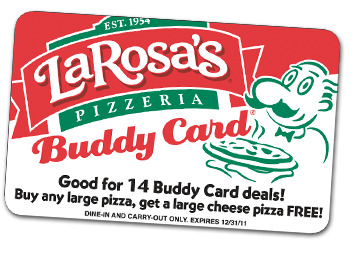 Purchase your Buddy Card for $10! Five dollars will be donated back to La Salle by the LaRosa Family. Additionally, you get to pick which program or co-curricular program your Buddy Card Purchase will benefit.
The Buddy Card is good for one year from the day that you activate your card online or at the pizzeria.
Once activated, your Buddy Card will have 14 offers on the card! Buy any large pizza, get a large cheese pizza FREE! (for pick up or dine-in only)
After purchasing your Buddy Card, La Salle will mail your Buddy Card to you or you can purchase your card in person at La Salle, Monday through Friday - 8:00 AM - 4:00 PM.
To activate your new card visit www.mybuddycard.com or go to any neighborhood pizzeria and they can help you to activate it.