Thank you for 45 years of service, Dan Flynn!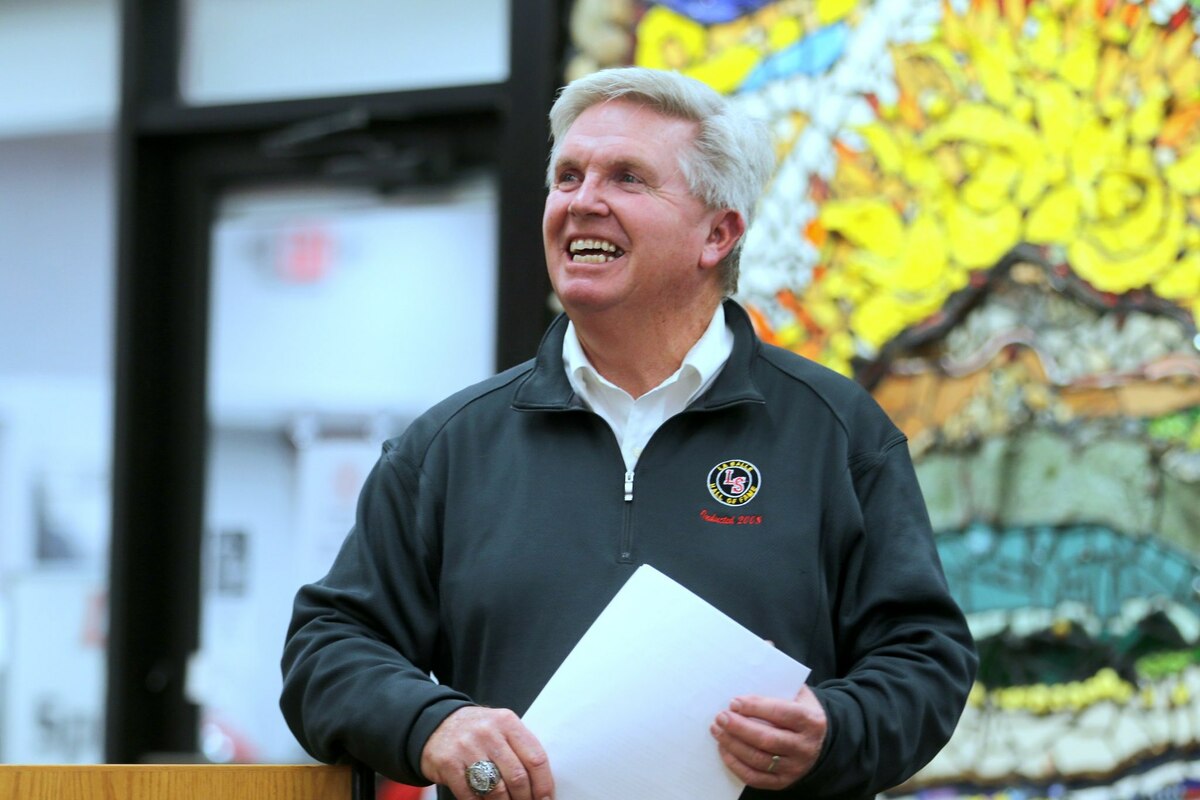 Please join us in thanking Dan Flynn for his 45 years of service to La Salle High School.
Dan has answered the call to serve by teaching, coaching, advising, consulting, fundraising and much more for the Lancers during his time here. "It has been a great ride!" he shared.
"I can't thank Dan enough for his expertise, effort and dedication to making La Salle a better place during his time here," Principal Aaron Marshall said. "I am grateful for the relationships and partnerships he has built in our Lasallian community and throughout greater Cincinnati. We have been successful because of his influence. Dan is leaving La Salle better than he found it and I sincerely appreciate what he has done for all Lancers."
"I have had the opportunity to have a career at La Salle that has been much more of a vocation than a job," he added. "This school has played such an integral part in the lives of my wife, children and grandchildren.
Throughout his time with La Salle, he made lifelong friendships and shared that he had the honor to work with some of the best coaches in the state of Ohio. "The memories of the state titles won will stay with me the rest of my life," he included.
"Thanks to the many phenomenal relationships with our alumni and families, I have also had the privilege to be involved in building a number of athletic facilities on campus," he noted. These venues have become a gathering place for our community to enjoy watching our Lancers compete at the highest level. We are grateful to Dan for leading the way and turning dreams into reality at 3091 North Bend Road.
Dan served as La Salle's athletic director for 29 years after teaching and coaching for 10 and worked in the advancement office for his last six years. "I truly enjoyed connecting and reconnecting with a tremendous amount of alumni, benefactors and friends who have supported our growth at La Salle," he said.
"I have been very blessed to live 45 years of my life (plus an additional four years as a student) at La Salle High School," he stated. "I am looking forward to watching from the sidelines as La Salle continues to help young men earn a valued education and an outstanding high school experience."
June 30, 2022, is Dan's official last day of employment with the school, but we know he won't be far away and look forward to seeing him at sporting events and fundraisers for La Salle. An active search is underway to replace Dan's role to sell sponsorship and advertising for the benefit of Lancer athletics and academics.
If you have questions regarding sponsorship and advertising, please contact our Director of Advancement, Mike Wiesman at [email protected].