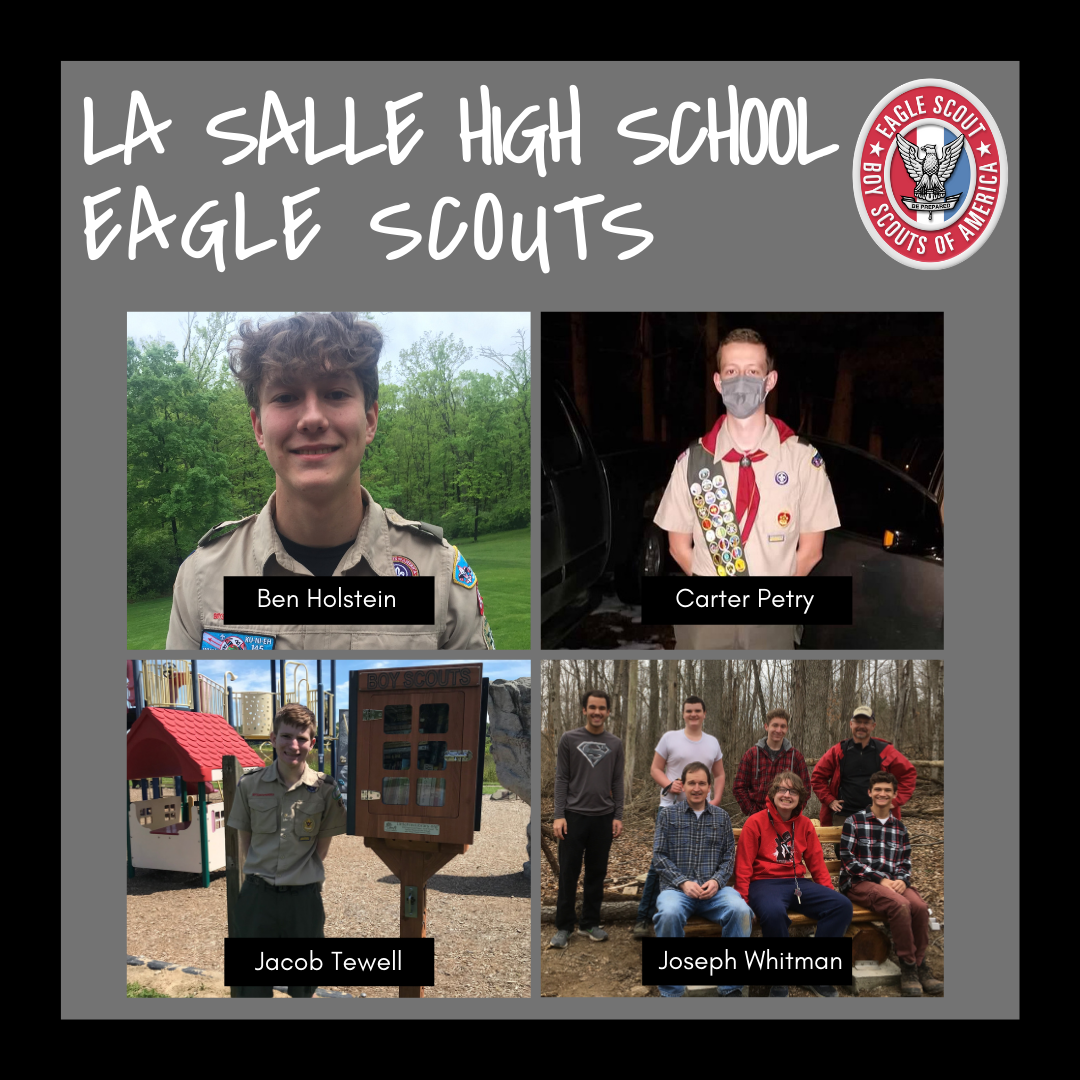 We are so proud of these young men who earned the rank of Eagle Scout, the highest rank attainable in the Scouts BSA program of the
Boy Scouts of America
. To earn this rank these young men have:
been active in their troop for at least six months as a Life Scout
demonstrated that they live by the principles of the Scout Oath and Scout Law in everyday life
earned a total of 21 merit badges
served actively in their unit for six months in a position of responsibility
while a Life Scout planned, developed and gave leadership to others in a service project helpful to any religious institution, school or community
participated in a unit leader conference.
Listed below are the projects these Lancers have completed to earn their Eagle Scout rank. Please join us in congratulating them on a job well done!
#LRD
#mindbodyspirit
Carter Petry: Troop 98, Montfort Heights United Methodist Church
Carter's project was for Trinity Lutheran Church, Mt. Healthy. He oversaw the building of 12 bookshelves for their Sunday School, which involved teamwork and nearly 200 service hours to complete.
Jacob Tewell: Troop 641 St. John the Baptist Church, Dry Ridge
3/29/21
Jacob earned a total of 41 merit badges. He was active in a number of leadership roles with his troop along the way, serving as Troop Historian, Webmaster, Photographer and Librarian. Jacob has had one goal in mind throughout his years in scouts, to achieve the rank of Eagle Scout. Last year, in the midst of the pandemic, he decided to finalize his plans. He made the decision to select the organization of
Little Free Library
, a non-profit organization that inspires readers and expands book access for all through a network of "little libraries." Due to the constraints of the pandemic, Jacob, along with his dad, assisted in the planning, building and installing three Little Free Libraries at Heritage Park, Good Neighbors Park and The Hamilton Ecological and Nature Center. He also collected an abundance of books in his neighborhood and designed bookmarks that include the Scout Law and Oath. These are provided in each Little Free Library for all to enjoy when selecting a book. Jacob is a member of Key Club and also service work associated with his parish, St. John the Baptist Church. He is a varsity member of La Salle's new eSports team.
Joseph Whitman: Troop 601
5/25/21
Joseph completed a service project of building memorial benches at
Hueston Woods State Park
with the assistance of some scouts from his troop and also some help from his classmates at La Salle.